Knowing You... Knowing Us
If you want to go into a serious business relationship, it is important that you know us and we know you.
We will introduce ourselves to you below
In 1992, our founder, Choo HP , after attaining his degree in Accountancy from NTU, started his first job from the ground, as a book keeper recording manual accounting entries. Three months later, he thought "Enough is enough!" He found a batch-posting accounting software that runs in a DOS-based computer. Choo HP then setup the receivables, payables, general ledgers, inventory and order processing modules in the accounting system and made it functional. After 18 months, he handed over the improved system to the next accountant in the company.
He envisioned that one day, real-time information is the way to go. Choo HP decided that he will be the one to do so. With the vision that an ideal accounting system must be updated to various books in real-time and should be easily amended and repost again to be efficient, Choo HP started his own company to develop an ideal accounting system.
The double "mm" in the name, REALTIMME, is certainly no typo. It stems from the word real-time information and remains more important to date. The belief that in order to manage, you must be able to measure.
REALTIMME Cloud Accounting solution has been serving the SMEs for more than 20 years, and continue to do so, with ongoing innovation and upgrades, evolving to the current REALTIMME Cloud solution and now with a more enthusiastic team setting the road maps and reaching each milestones.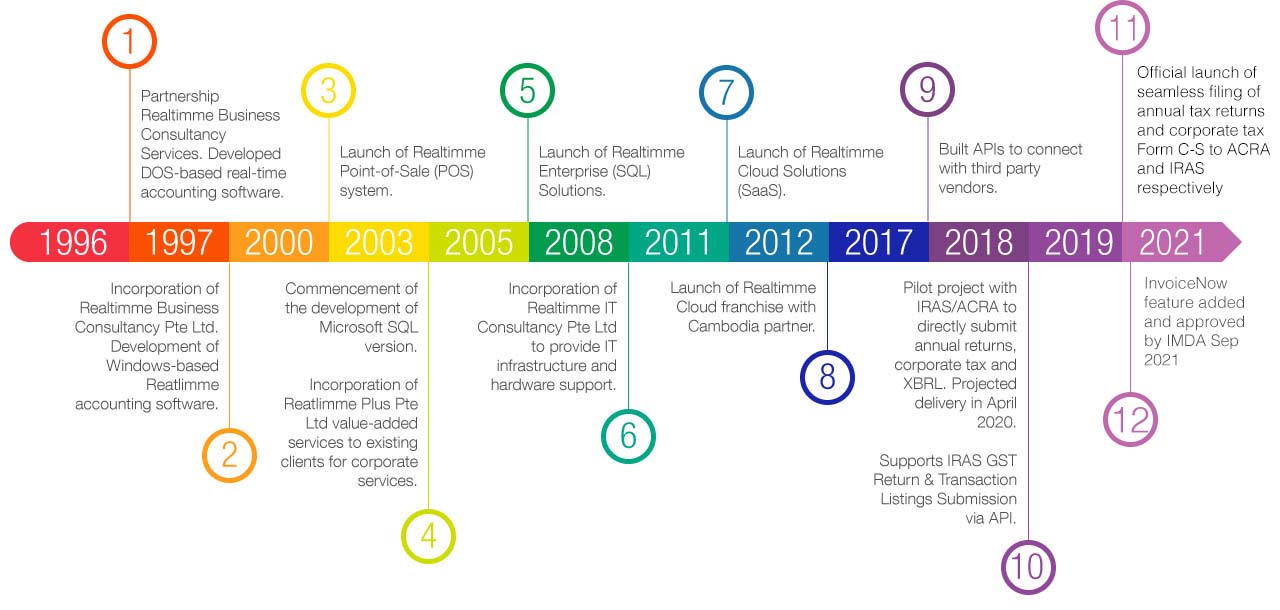 Empowering business owners.
Realtimme is committed to delivering real-time information to business owners using the latest technology, for business owners to Measure and Manage their businesses.
Business owners can feel their business pulse every day.
We start with you …We grow with you!
You need to be able to measure what you want to manage. This can be seen in our company name that spells with a double "m"…Realtimme.
Realtimme has developed an 'all-in-one' solution for small and medium businesses to help them serve their customers better and be more profitable than many of the larger companies around. We fill the gaps where other solutions designed for small business or big ERP systems cannot fill. While we have features that matches big ERP system, our pricing goes the other way of a small business solutions.
To provide our customers with the best accounting and business solutions and to support them with the highest possible level of customer service.
Customer demographics include small and medium enterprises (SMEs) and divisions of large organizations, in wholesale/distribution, retail, food & beverages, shipping and/ or services industries.
Contrary to the belief that a big team will serve you better , we walk the talk by having our core team that is lean and agile. We harness the latest technology to stay viable and sustainable. We invite partners that can contribute to add value and form an eco-system, delivering a wide array of services to our customers.